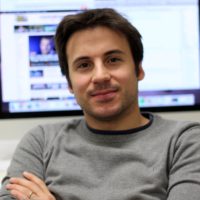 After a Bachelor degree (2005) and a Master of Science (2008) in Mechanical Engineering, and a Ph.D. (2011) in Bioengineering and Bioinformatics at the University of Pavia, since 2021 Simone Morganti is Associate Professor at the Department of Electrical, Computer and Biomedical Engineering of the University of Pavia.
Since August 2020 he has been elected Chairman, together with Carina Schwarz of Duisburg-Essen University, of the ECCOMAS Young Investigator Committee (EYIC). Since September 2019 he is Vice-Coordinator of the PhD Programme in Design, Modeling, and simulation in Engineering of the University of Pavia. In 2012 he won the Phd ECCOMAS Olympiad for the best PhD thesis presentation. He is recipient of the Tissue Mechanics Prize awarded by the Centre for Mechanics of Biological Materials (CMBM) of the University of Padua at GNB2014 (2014).
Major research interests are Isogeometric Analysis, Finite Element Method & Cardiovascular Mechanics, Computational fluid-dynamics and fluid-structure interaction, 3D printing and innovative materials.
He published 57 papers on peer-reviewed international journals, 6 book chapters, and 1 patent. He has an H-index of 19 on Scopus and 1031 citations.
Award: Selected by ANVUR as a beneficiary of the Fund for the Financing of Basic Research Activities (FFABR) of the Ministry of Education, University and Research (MIUR) – December 2017
Award: Recipient of the Tissue Mechanics Prize awarded by the Centre for Mechanics of Biological Materials (CMBM) of the University of Padua at GNB2014 – June 2014
Award: Winner of the ECCOMAS (European Community on Computational Methods in Applied Sciences) PhD Olympiad 2012 for the Best PhD Thesis Presentation – April 2012
Award: Selected by AIMETA (Italian Association of Mechanical Engineering) for the ECCOMAS (European Community on Computational Methods in Applied Sciences) PhD Olympiad 2012 – March 2012