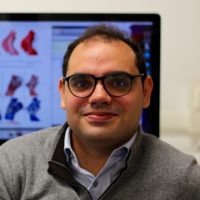 After a Bachelor degree (2004) and a Master of Science (2007) in Biomedical Engineering, and a Ph.D. (2010) in Bioengineering and Bioinformatics at the University of Pavia, since 2019 Michele Conti is Associate Professor of Industrial Bioengineering at the Department of Civil Engineering and Architecture (DICAr) of the University of Pavia.
He is recipient of a research grant by LivaNova Donations & Grants (2018), and winner of the European Society of Cardiology (ESC) Research Grant (2016). He received the E. Kieffer Prize in 2014. From 2013 to 2015 he served as President of Italian Chapter of European Society of Biomechanics (ESB-ITA).
Major research interests are the numerical simulation of minimally-invasive cardiovascular devices, the development of informatics tools for medical imaging analysis, experimental set-up for in-vitro tests of endovascular devices, isogeometric analysis for biomechanics, and 3D printing/additive manufacturing for biomedical applications.
He has 89 publications on peer-reviewed international journals, and 5 book chapters. H-index of 15 on Scopus, over 780 citations on Scopus.
Award: Recipient of research grant by LivaNova Donations & Grants – June 2018
Award: Winner of European Society of Cardiology (ESC) Research Grant – April 2016
Award: Winner of E. Kieffer Prize for the study "Impact of TEVAR on thoracic Aortic Elasticity", 6th International Congress Aortic Surgery and Anesthesia How to do it, Milan – December 2014
Position: President of Italian Chapter of European Society of Biomechanics (ESB-ITA) 2013-2015
Award: PhD thesis selected as the Italian candidate for the ECCOMAS (European Community on Computational Methods in Applied Sciences) Award for the Best PhD Theses 2010 – 2010